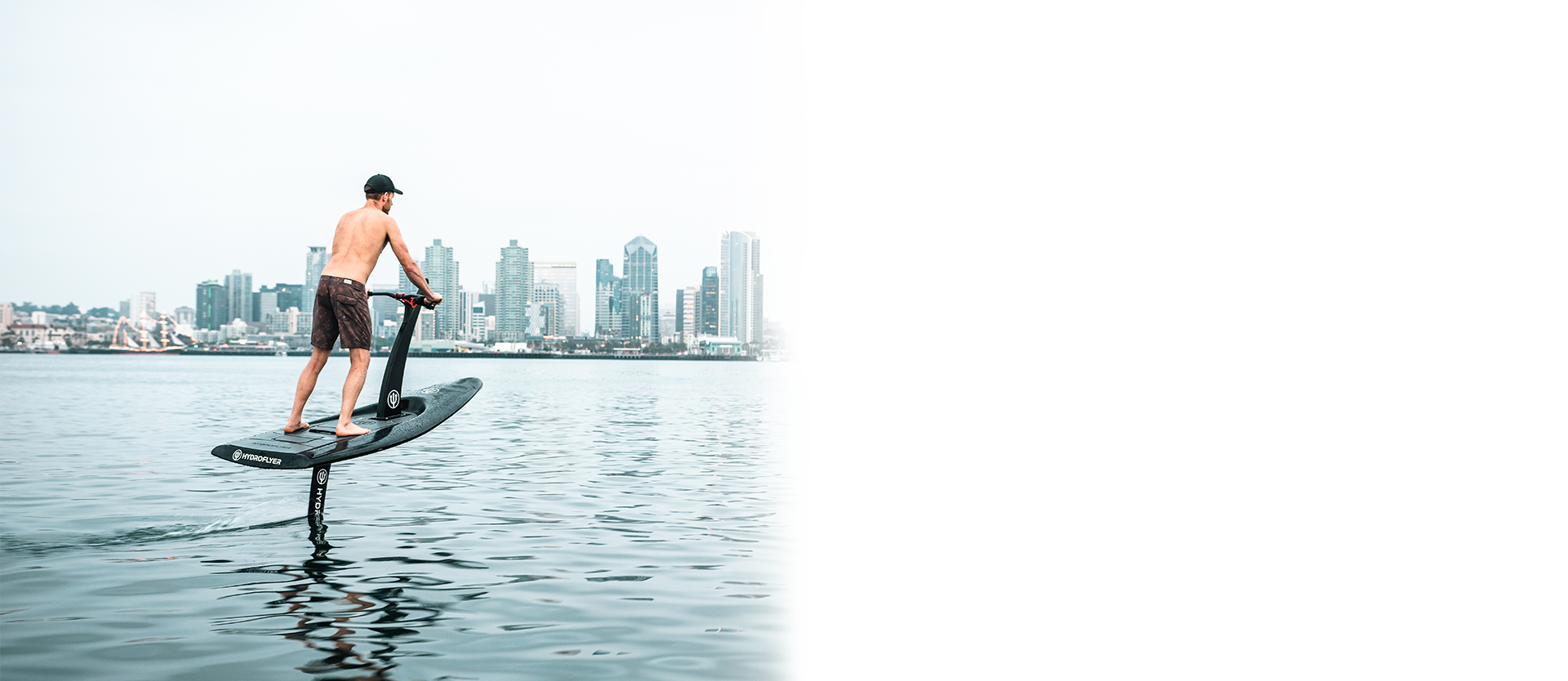 The Next Generation Of Personal Watercraft Has Arrived
A cross between a hover-board, a jet-ski, and a surfboard, the Hydroflyer™ is the most advanced personal watercraft ever created.
Riding the Hydroflyer™ is a whole new sport.
As one rider describes it, "feels like a cross between a hoverboard, deep-powder snowboarding & flying, without any drag, bumps or shocks, just pure glide."
With speed settings that range from mild to wild, and industry leading rider safety features, the Hydroflyer™ was designed for beginners and professional thrill-seekers alike.
We have made the world's coolest new water sport available to everyone.
Build My Hydroflyer™

Learn More

Featuring Hydroflyer's Patented Next-Gen Technology
From big ocean swells to pristine, crystal clear lakes. The Hydroflyer™ was designed to suit the myriad of conditions mother nature can throw at you.
Designed For Comfort and Performance
Ergonomically designed handle grips, scooped deck for increased responsiveness and forward facing rider position reduces rider leg fatigue over long sessions.
Patented Stabilized Board Design
Unique V-nose board design slices through chop and minimizes water and air drag for easy liftoffs & landing. Reduced side-to-side rock makes it easier to balance and reduces falling.
Modular Design
Parts that are easy to swap mean you can customize or replace parts easily.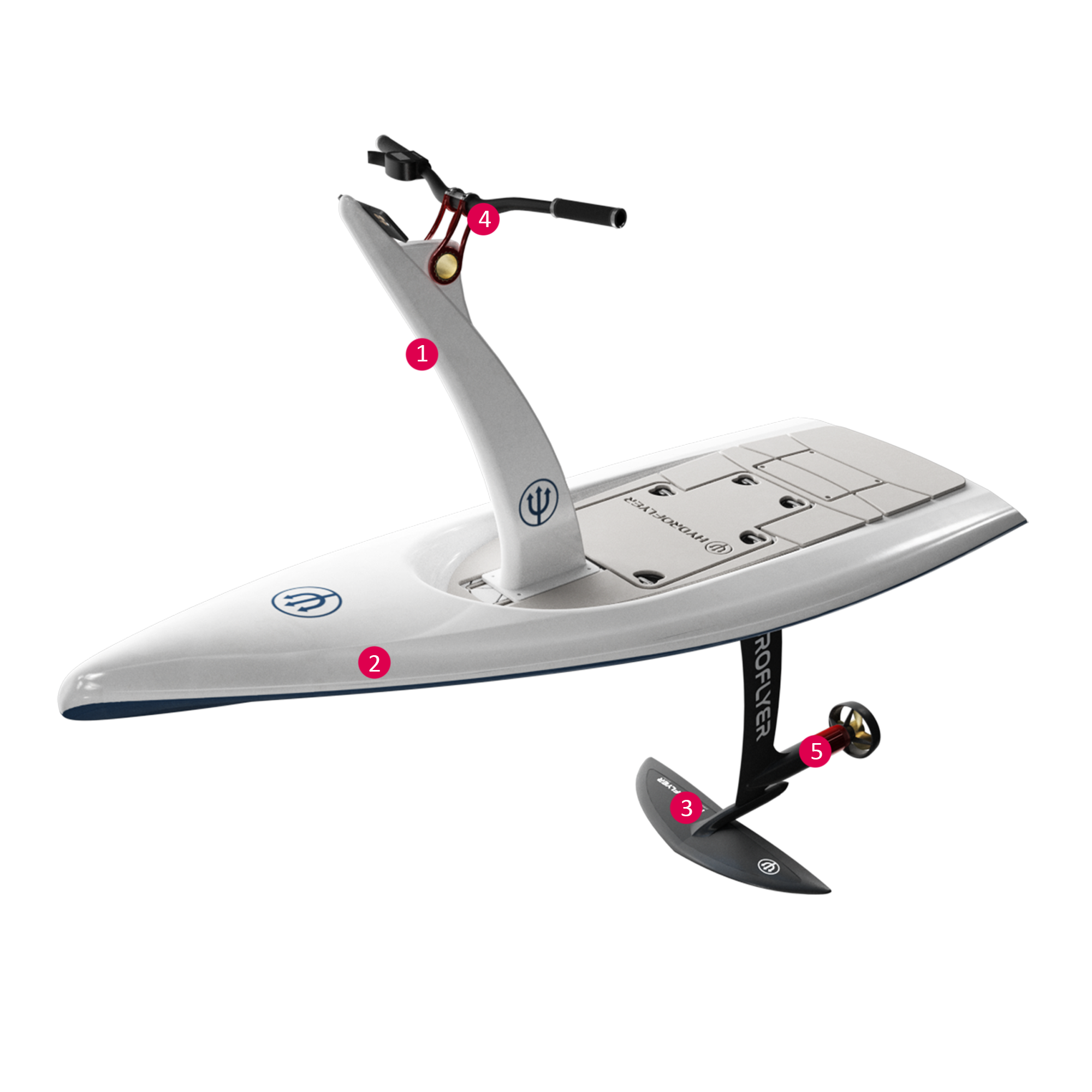 Patented Handlebars For Stability
Detachable handlebars make it easier to balance, reduces wipeouts and shortens the learning curve for beginners. Even first timers with zero prior experience can get up and enjoy it first go.
World Class Engineering
Scientifically designed and tested hydrofoil wings. Our ultra-efficient hydrofoil designs reduce drag and allow for maximum glide and reduced battery strain. This means faster speeds and longer ride time without needing to recharge.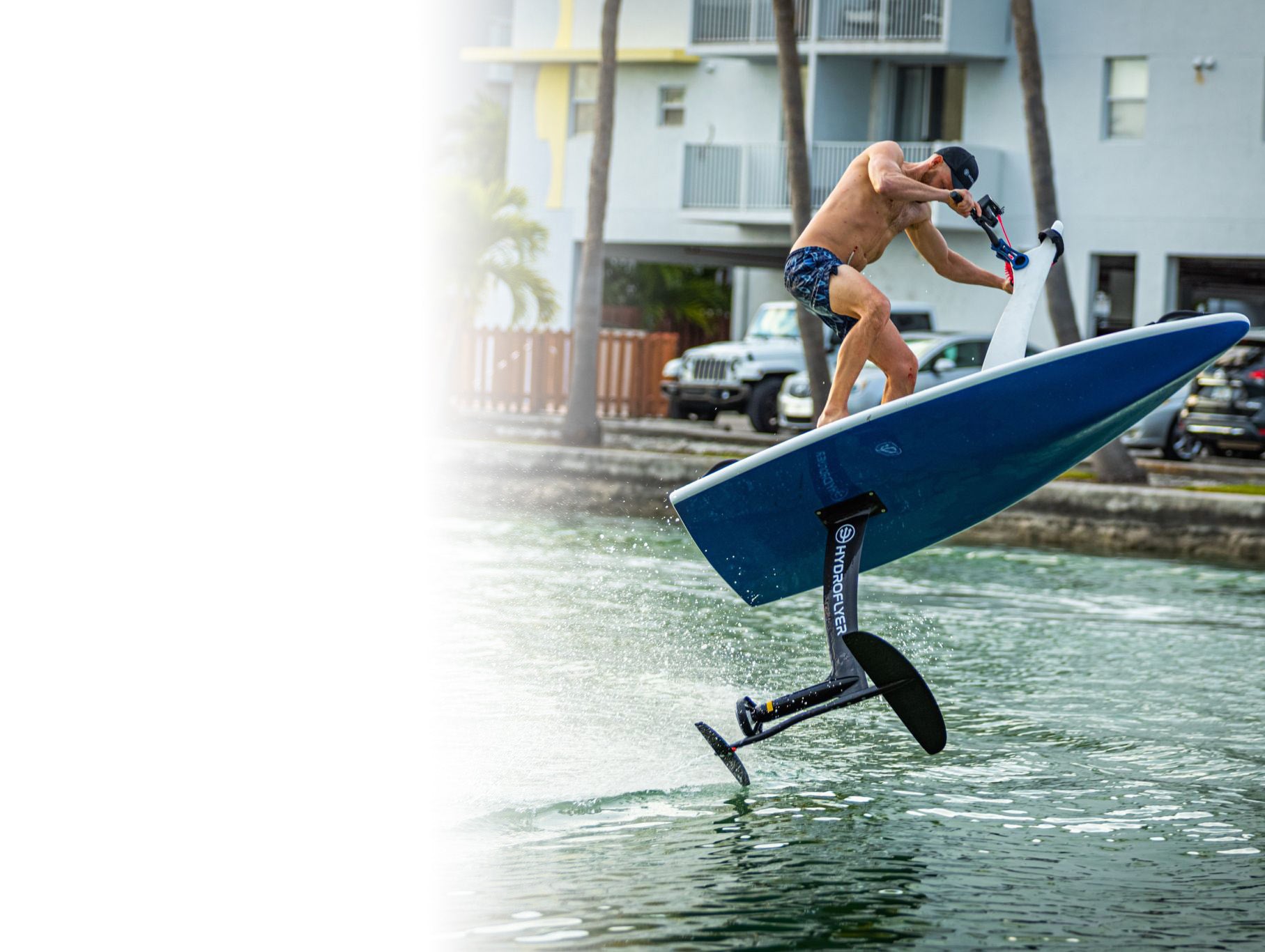 A Whole New Experience - Just Add Water
How Does The Hydroflyer™ Work?
The Hydroflyer™ is a new and environmentally friendly way to experience flying over water.
The Hydroflyer™ is 100% electric, that means it requires no fuel, creates no fumes or pollution, recharges rapidly in any standard AC power outlet, and requires barely any maintenance.
The Hydroflyer™ uses a wifi controller attached to the handlebars to control the speed. The controller feeds the signal to the onboard computer, which in turn signals the lithium battery to power on the virtually silent motor. Once the rider reaches a speed of around 4-5 knots, the power of lift and thrust begin to work their magic, and the Hydroflyer starts to lift out of the water.
That's when it feels like flying. There truly is no feeling in the world quite like it.
Build My Hydroflyer™


Choose Your Weapon
Configure your Hydroflyer™ today and experience the amazing feeling of flying over water….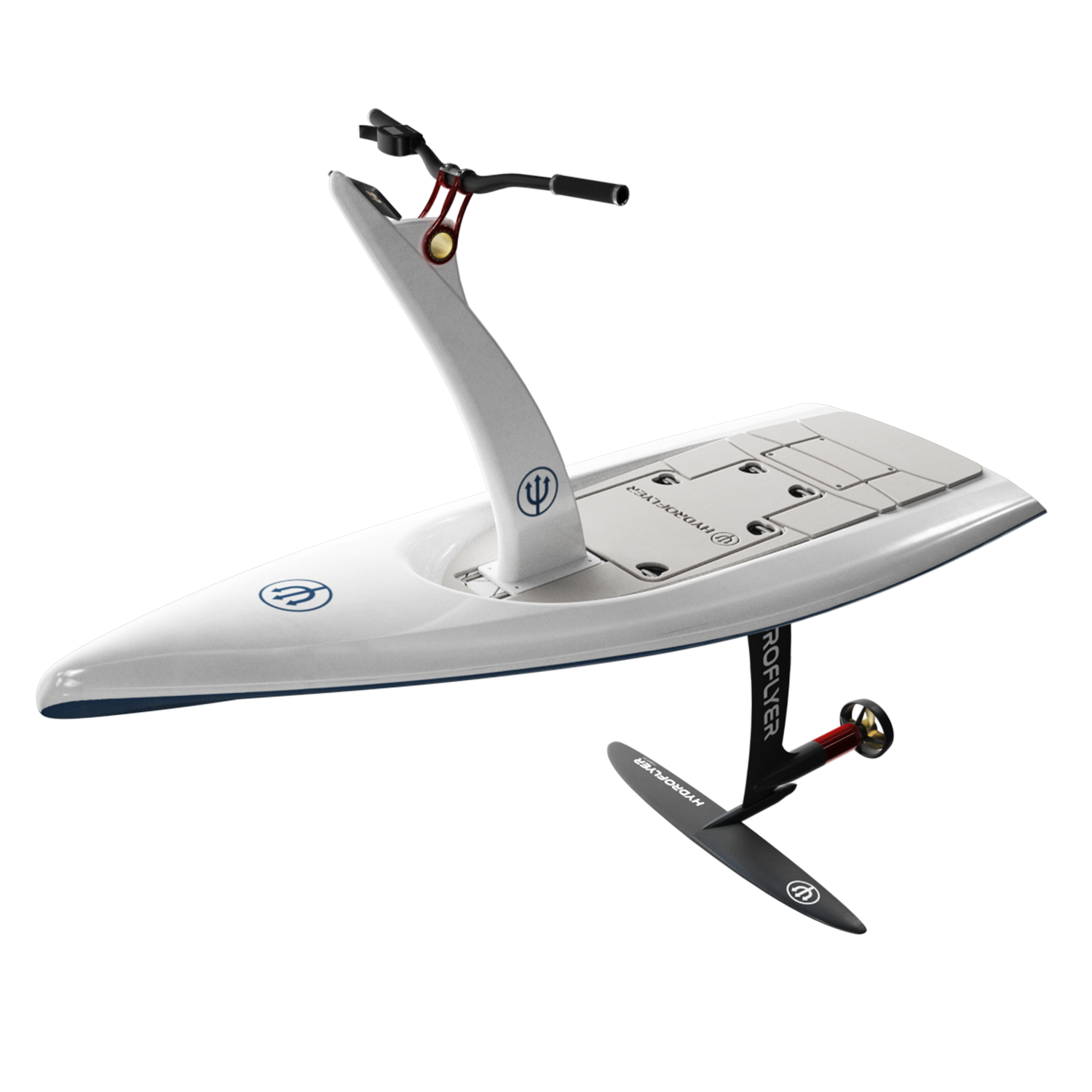 Cruiser
Hydrodynamic Design
Our most stable board
Easy to learn & fun for the whole family
Cloud Inflatable
Designed for Beginners to intermediate riders
Inflatable easy to transport
the most user-friendly e-foil on the market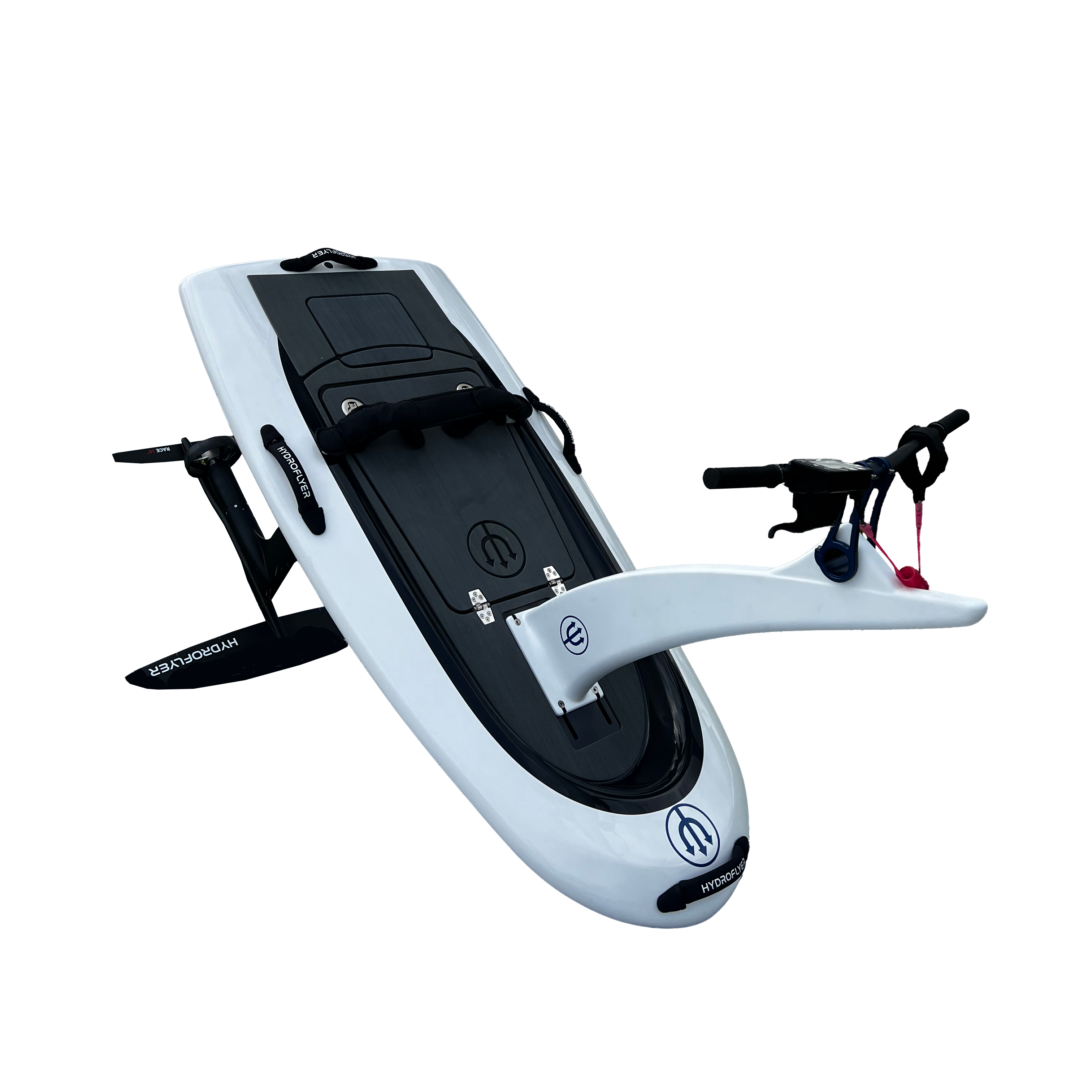 Sport
Designed for intermediate to advanced riders
Great for turning and carving
Designed for both flat water and ocean riding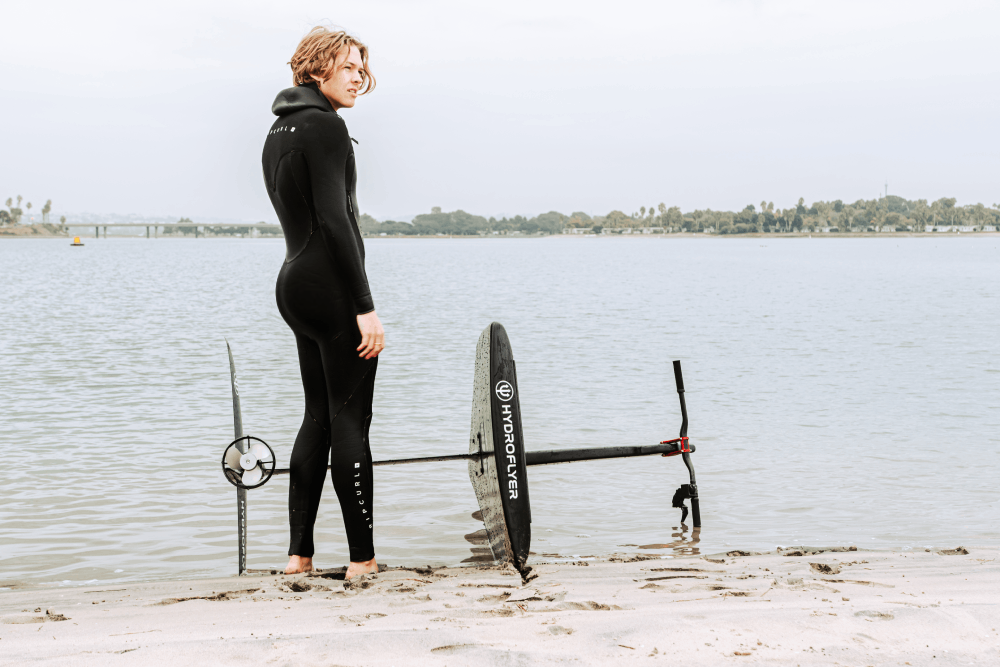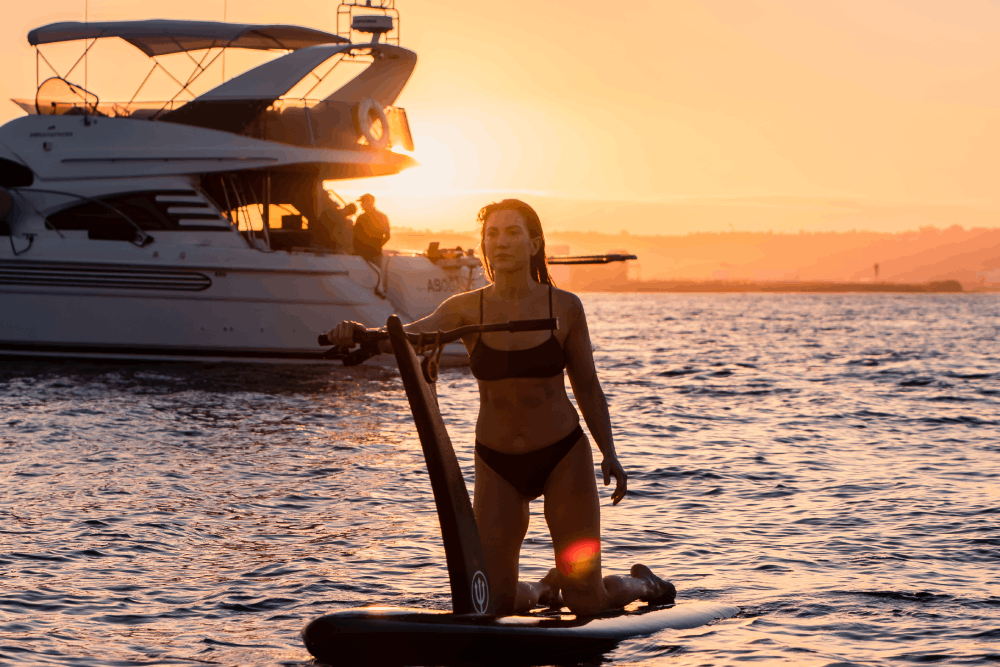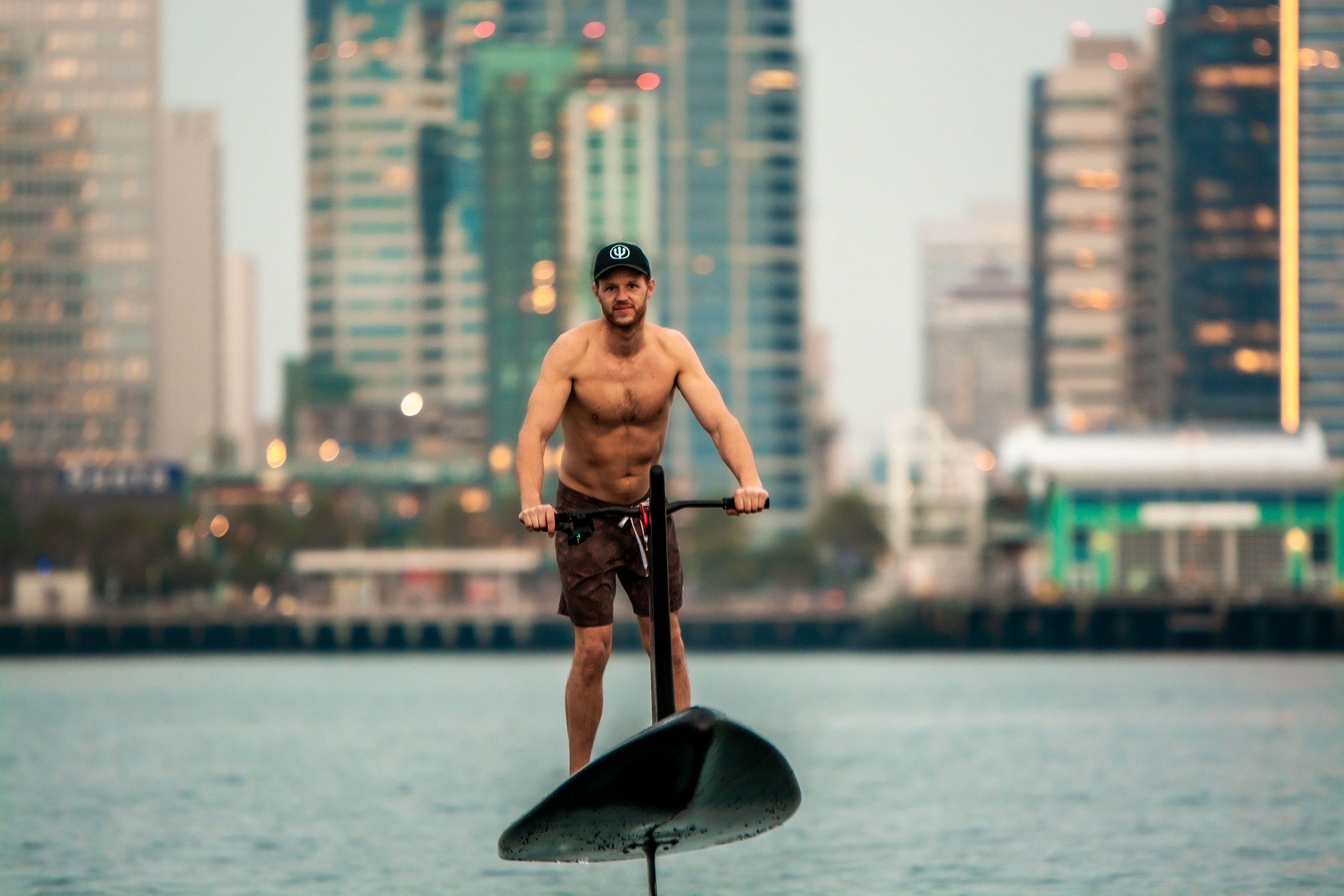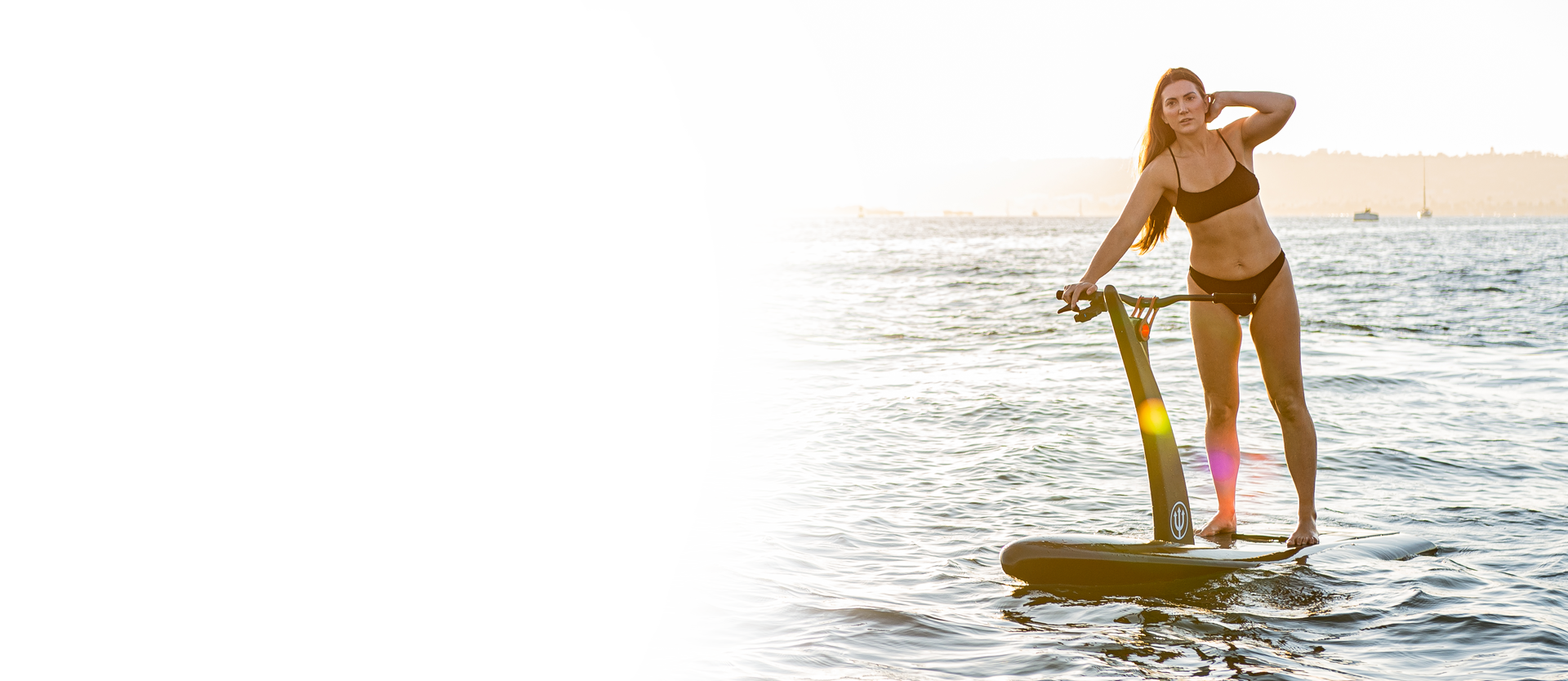 Ride Of A Lifetime
Board, wing, speed and stability options catered for all skill levels and body types, the Hydroflyer™ was designed to make e-foiling accessible to everyone.
The perfect balance of speed, excitement, ease of use, and safety, there's an option to suit every rider.‍
If you've ever wanted to know how it feels to fly above water, you need to try this!
Build My Hydroflyer™

Testimonials
It felt like a cross between snowboarding in deep powder and flying!
I´ve never experienced anything like this before. Feels like flying.
I have tried other efoils but this is by far the best and easiest to ride.
Omg this is the funnest thing ever, I'll take 2!
See The Hydroflyer In Action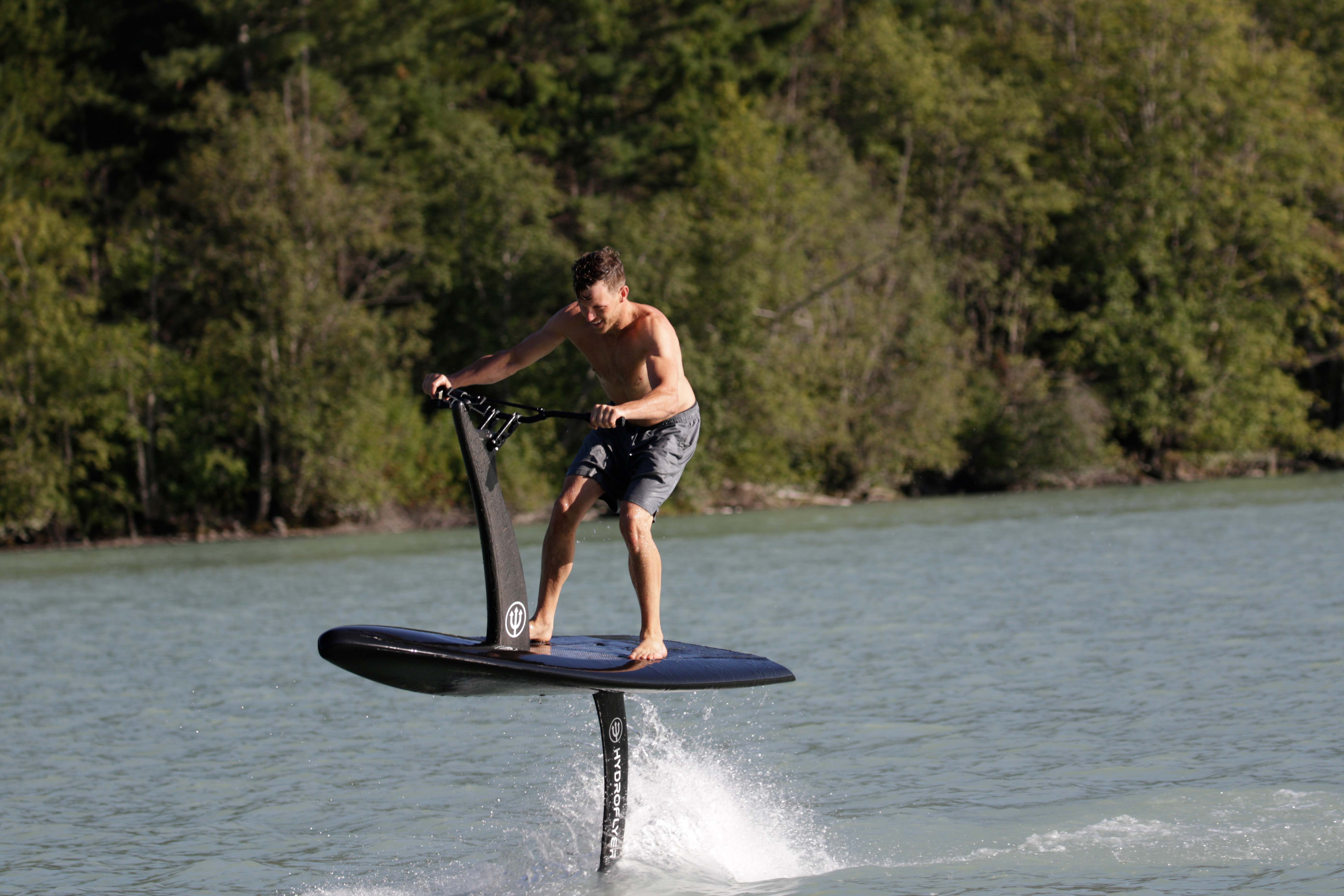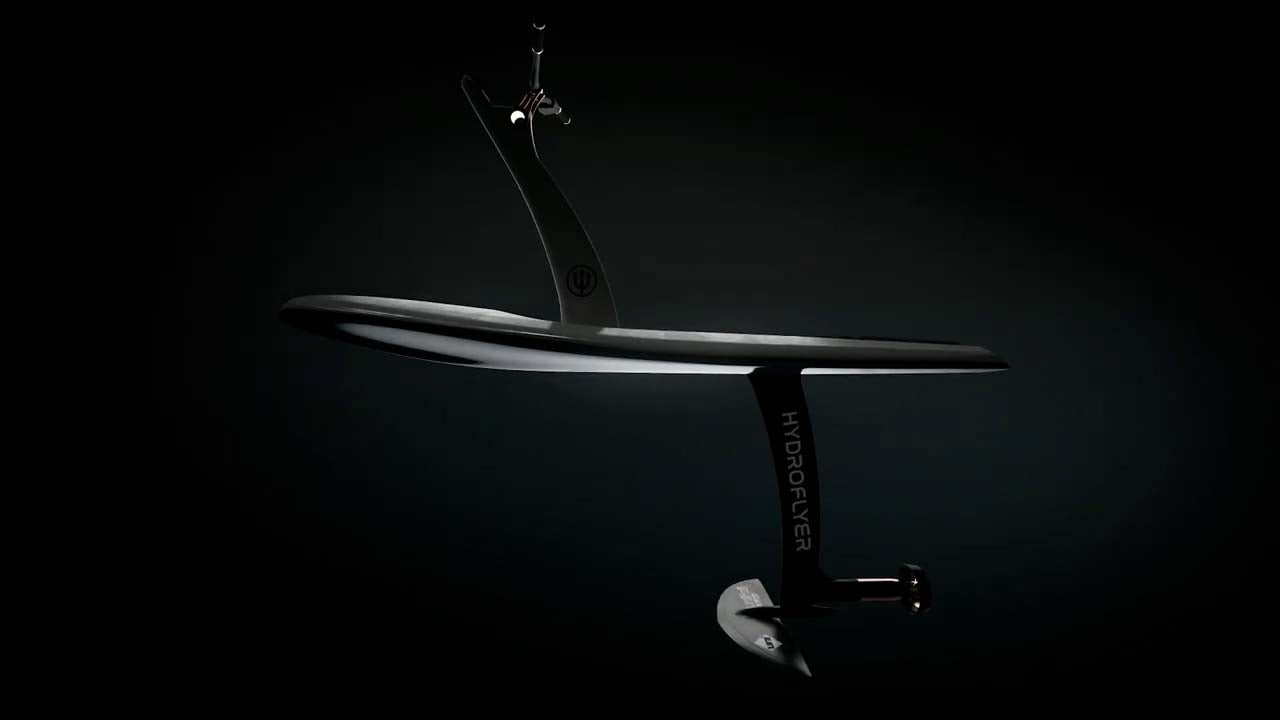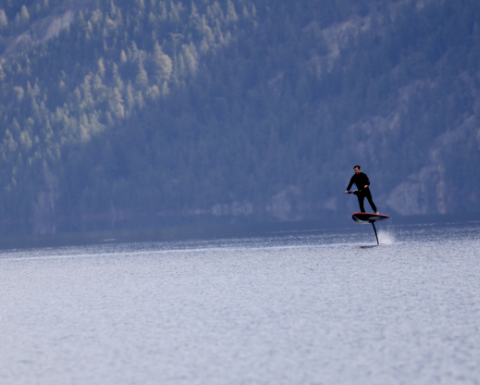 Go green for the planet
No gas, no fumes, no wake, no sound, no trailers. The Hydroflyer™ has solved many of the issues of the modern day watercraft.
We are doing our part to lessen the pollution of our waterways by using a silent, emission free, lithium-ion battery to power the Hydroflyer™
The Hydroflyer™ is a new kind of personal watercraft, one that leaves no wake, noise, fumes or pollution behind.