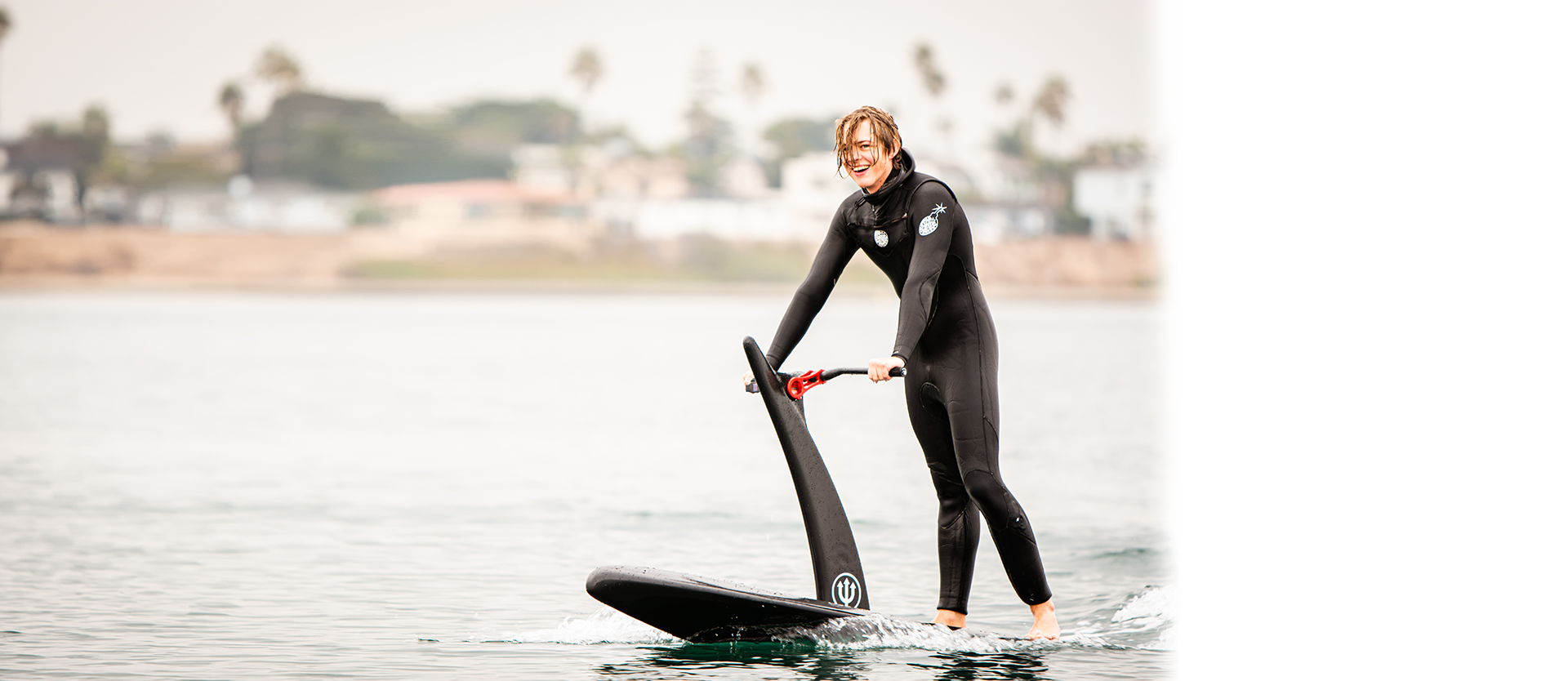 Next-Gen Technology
The Hydroflyer™ is the culmination of years of relentless R & D, cutting-edge innovation, multiple design iterations, and plenty of hours spent flying over water.
Designed in Canada the Hydroflyer™ is truly a one-of-a-kind machine that delivers a one-of-a-kind experience.
‍Unlike jet skis that are heavy, cause wake, spew fumes, and require towing the Hydroflyer™ is silent, requires no fuel, and is easy to setup and pack away.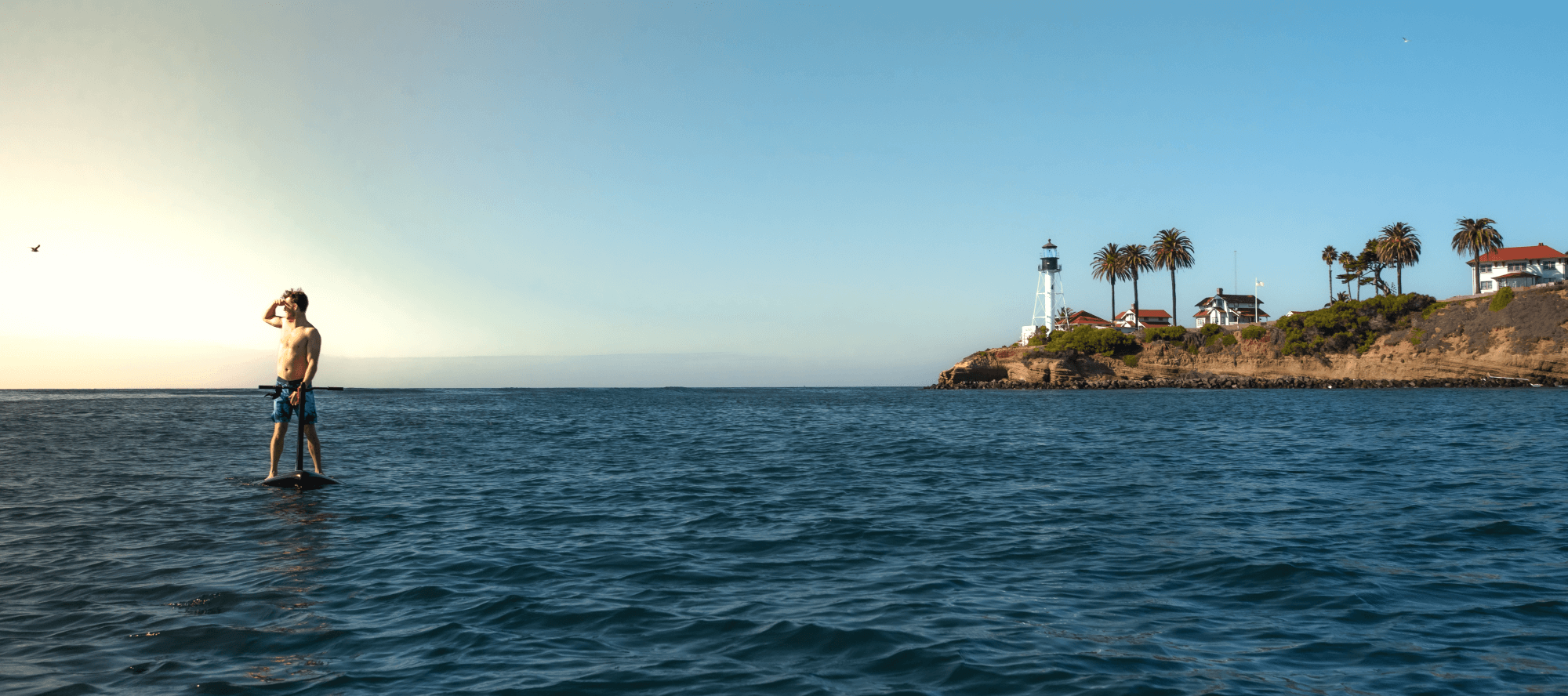 Watch the Hydroflyer in Action

Tech Specs At A Glance
Max 5500w
Engine Power Controller
2 Hours (from empty)
Recharge Time
Proprietary Ducted Propellor System
Propulsion
Brushless Anodized Aluminum
Waterproof Case
42-49Kgs (Depending On Board)
Total Weight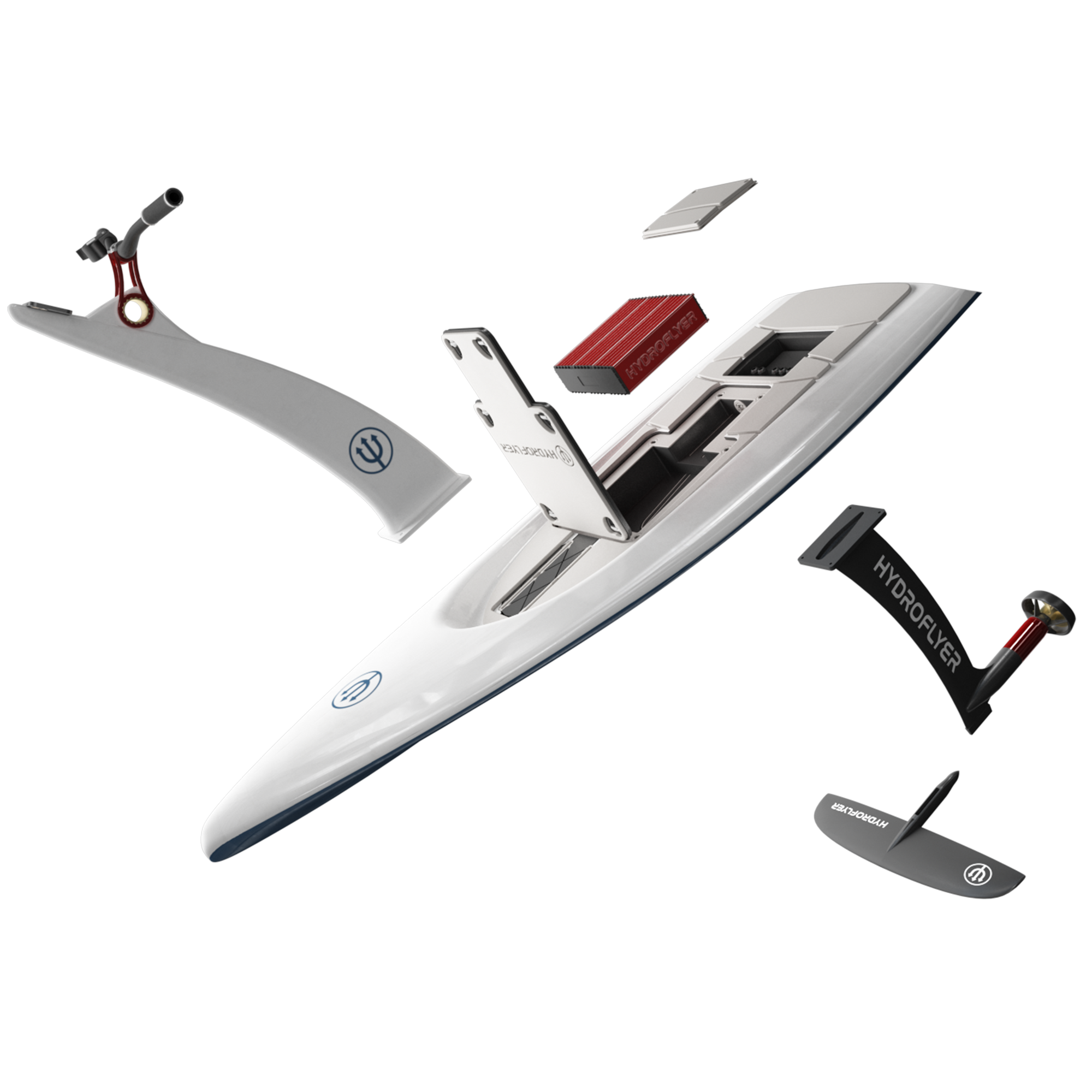 Wireless Wifi Controller
Controller
Full Carbon
Wing & Mast Construction
Waterproof EPS + Carbon
Board Construction

Design Features
The Hydroflyer™ is the most advanced personal watercraft ever created, featuring several patented safety and design features. (Patent D984352 and additional patents pending)
Patented Detachable Handlebars For Stability & Control
Many first time e-foilers have a hard time learning to balance. Detachable handlebars allow for 4 points of contact instead of 2, making it safer, and easier to balance. This shortens the learning curve considerably. Even first timers with zero prior surfing/foiling experience can get up and enjoy it first go. Once you master the basics you can choose to keep the handlebars on, or detach to ride ́surf style ́.
Top of the line Build
We made every part of the Hydroflyer from the best materials on Earth. From full carbon fiber masts to the most powerful motors no compromises were taken.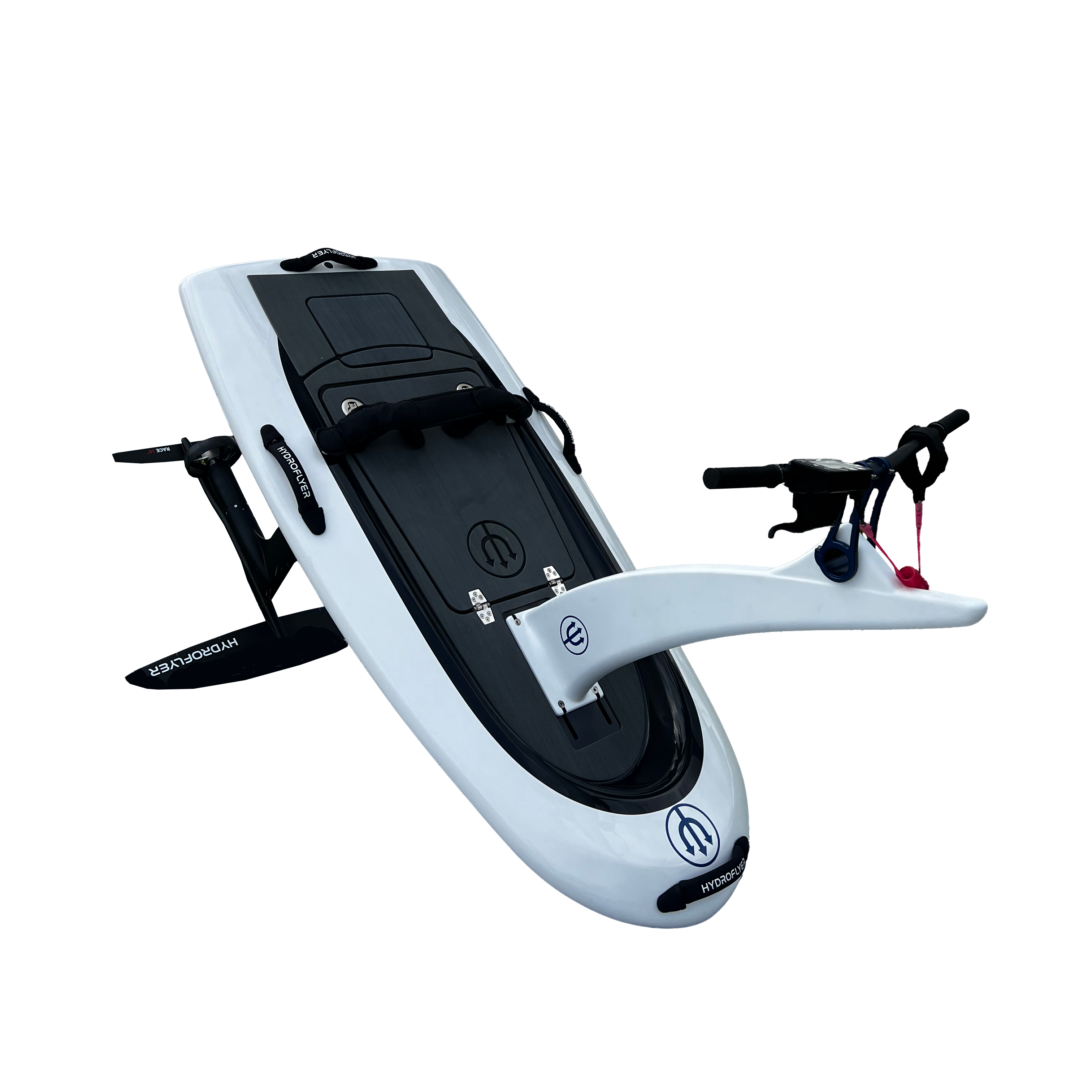 Designed For Rider Comfort
Ergonomically designed controller and handlebar positioning creates ideal front facing rider position and reduces rider leg fatigue for long sessions.
Patented Stabilized Board Design
Unique V-shape catamaran style nose design slices through the water and reduces drag on touch downs. Minimized side to side rock makes it easier to balance for beginners. Less falls = more fun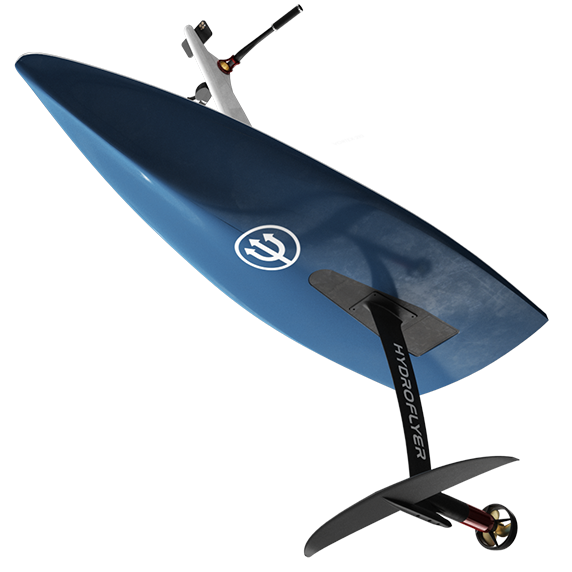 Build Features
The Hydroflyer™ features best in class safety and design features.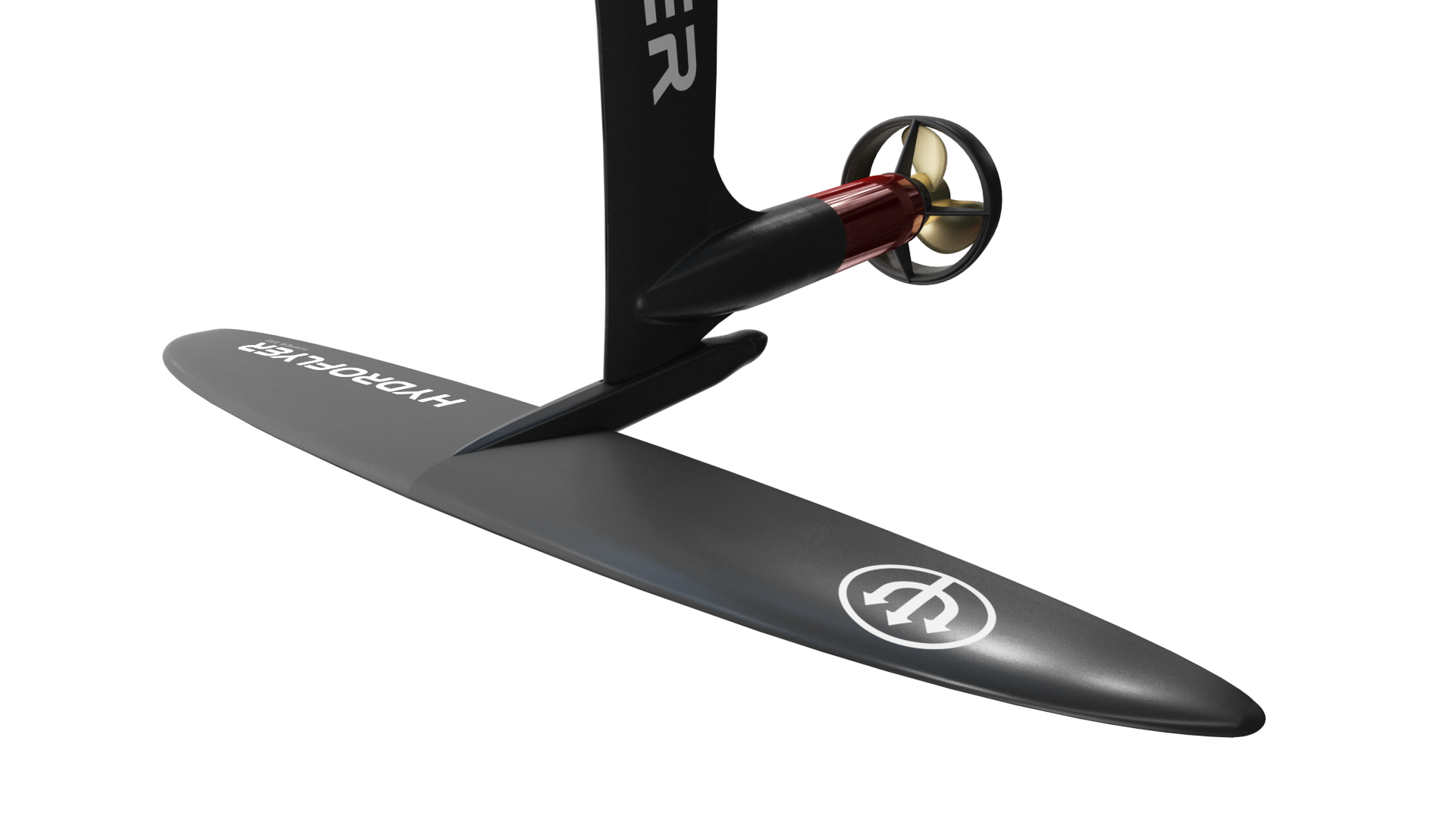 Built For Speed
Silent powerful drive system with custom designed hydrodynamic mast, propeller and propriety duct system enables the Hydroflyer to reach speeds of up to 45kms if you dare…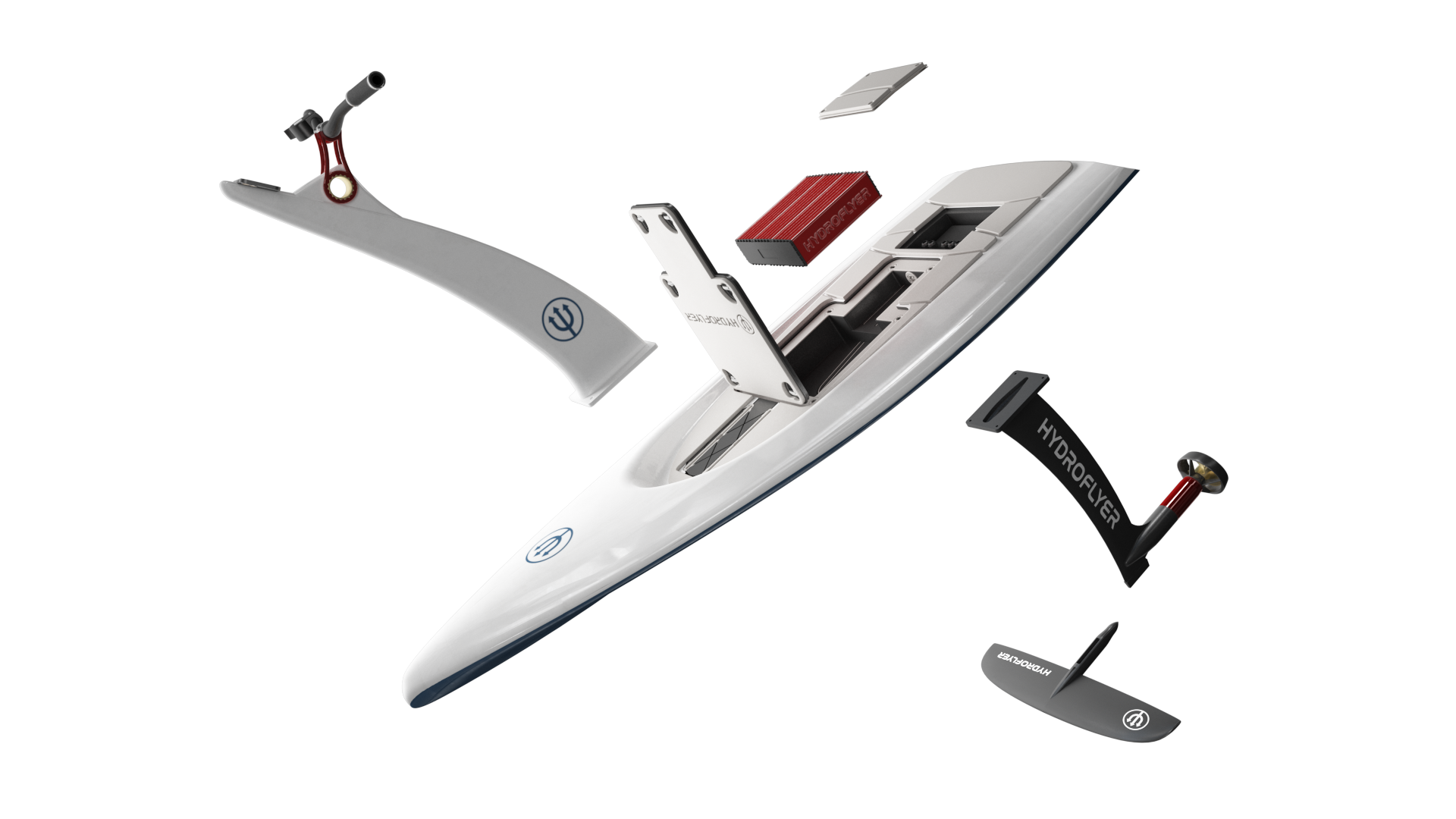 Rapid Connect System
The Hydroflyer ́s rapid connect system is fully modular and interchangeable: This means you can change any part of your wing & board setup depending on your mood, the conditions and your skill level. The possibilities are endless!

Wings
World's Most Efficient Hydrofoil Wings
The Hydroflyer™ features the gold standard in hydrofoils under the hood. Scientifically designed and tested by a world leading hydrofoil company.
Tested by top riders in various conditions around the world, 5 years of R&D have gone into the design to ensure maximum speed, glide and efficiency.
Minimized drag lessens strain on the battery, resulting in faster speeds, smoother rides, and longer battery life.
Our wing designs are the most efficient e-foil wings on the market. Wing construction available in full carbon or CloudTech™ carbon + silicone for safety.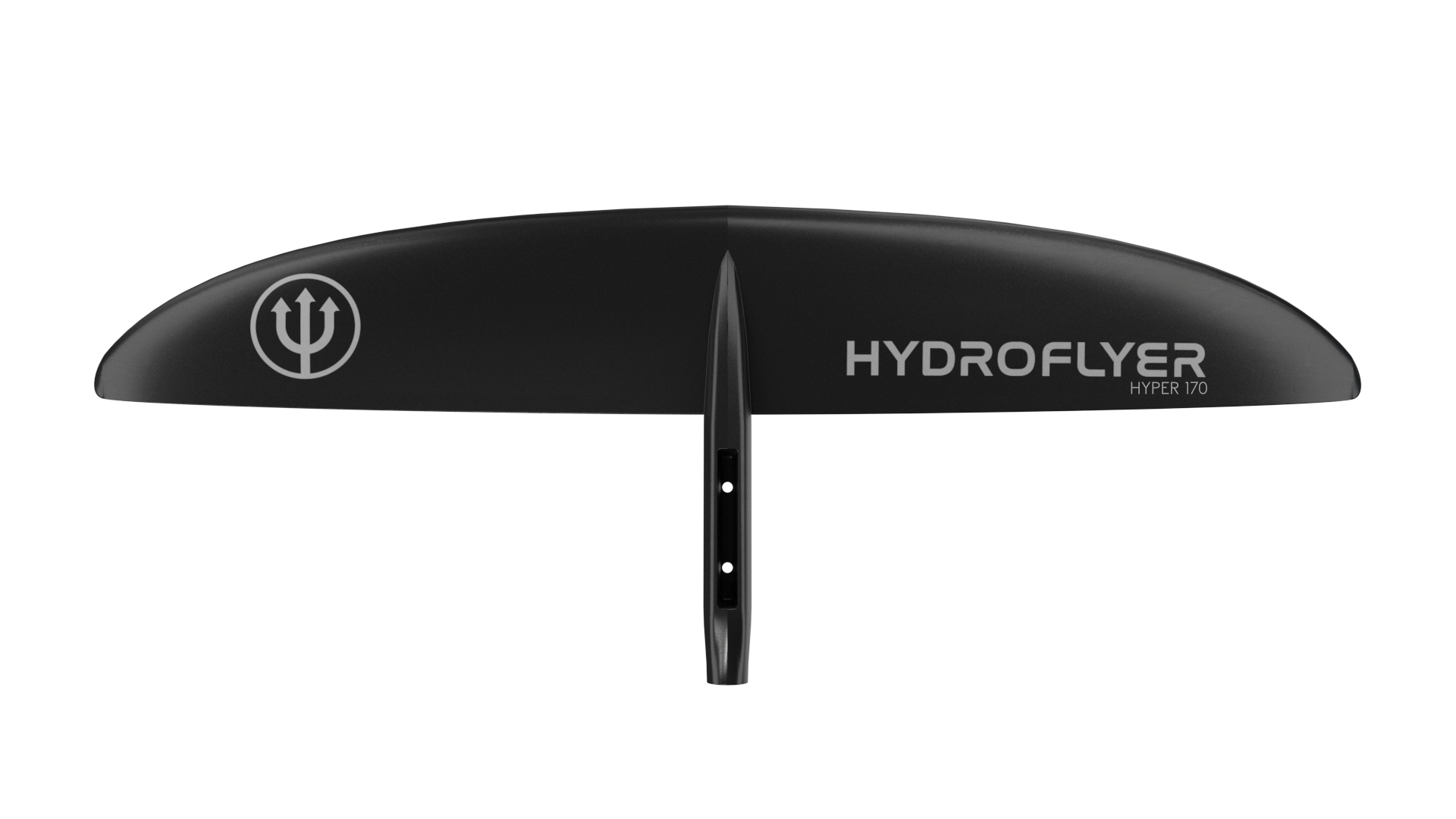 Hydrodynamic design maximizes foil efficiency and reduces drag, resulting in longer battery life
Modular design makes it easy to change masts & wing setups to find your perfect combination
Highest quality infusion carbon construction or Cloud Tech™ carbon + silicone
Ridden, tested and tuned by world leading water sports professionals
Sophisticated carbon layup achieves optimal strength to weight ratio, using military grade materials for strength, stiffness, and durability

Battery
The Hydroflyer™ is powered by top of the line lithium-ion battery cells. Built robust to handle the toughest of ocean conditions, it is the most powerful electric battery for its size available today.

Battery life is 90 - 120 minutes depending on conditions and riding style.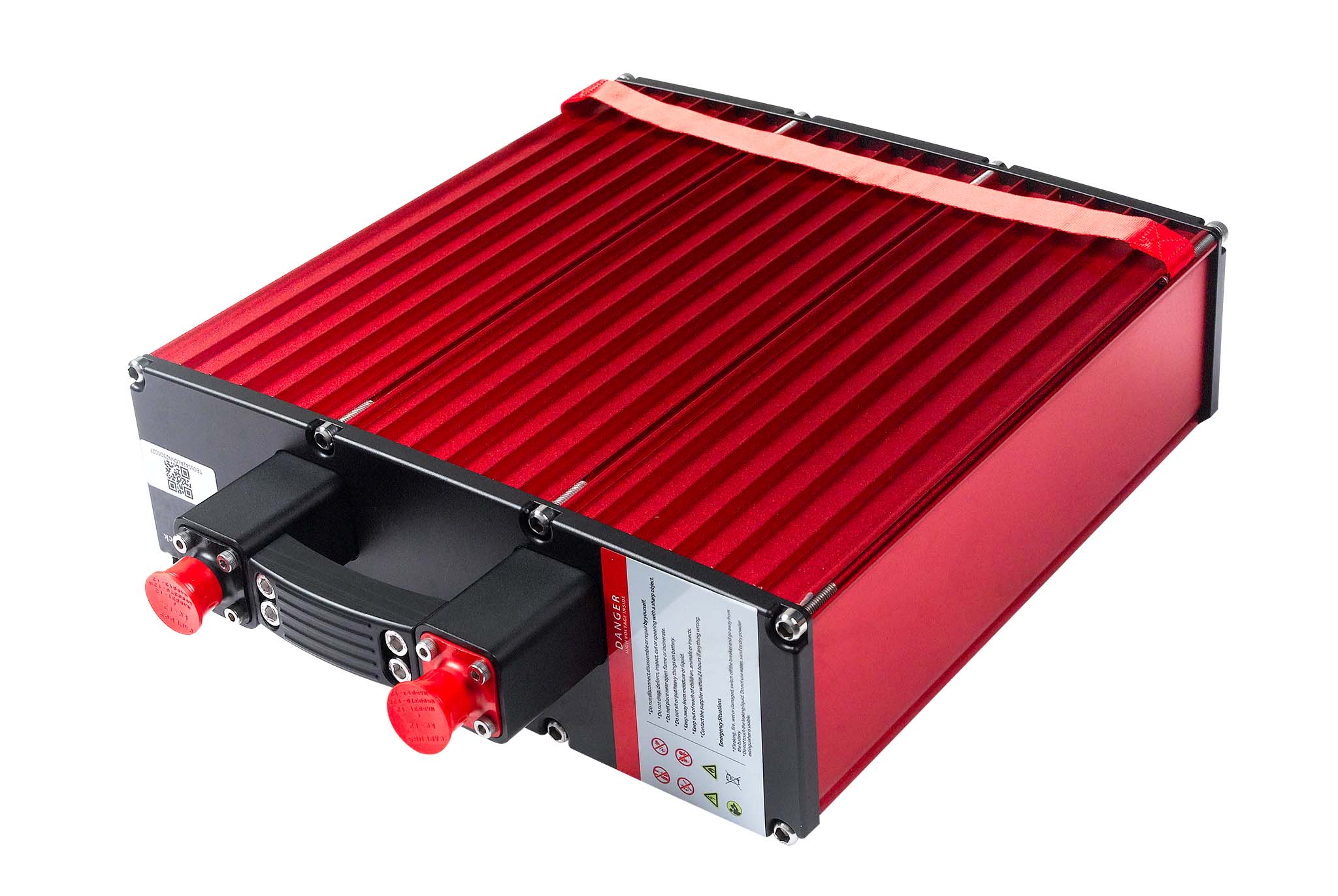 Replaceable and rechargeable
12 month warranty
2 hour charge time
Fully waterproof and submersible
90-120 minute ride time
Made to withstand tough ocean conditions
Water cooled temp control
Rapid and safe recharging in standard a/c power socket
42 AH
2.4 Kwh Capacity
52V Nominal
High Voltage 58.8V
Low Voltage 42V

Propulsion System
(Patent Pending)
We have created a unique cooling system to ensure our battery and motor operates at maximum efficiency for extended battery life. Our real-time feedback system monitors the motor and battery and sends feedback to the rider via the LCD screen.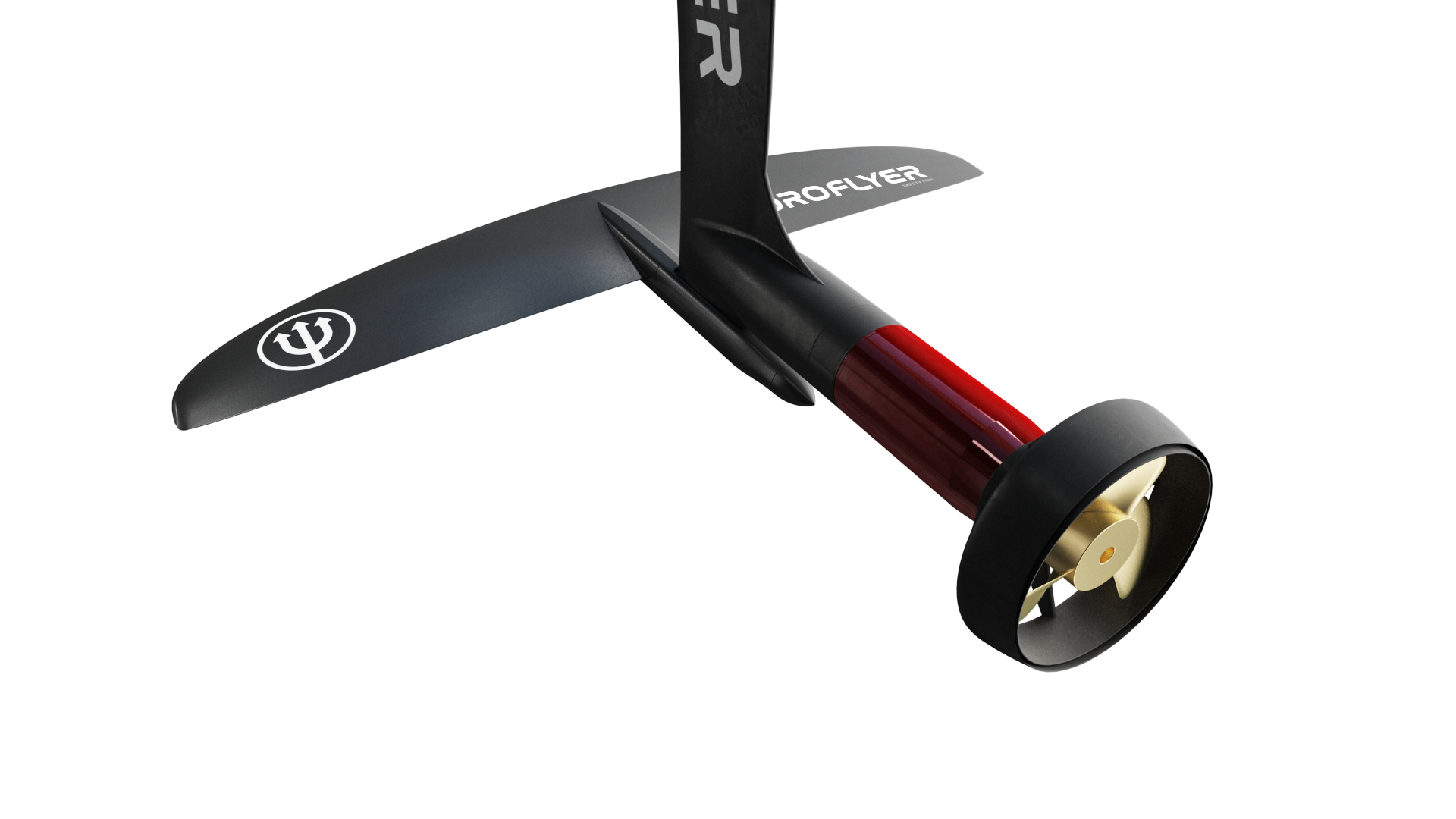 Small and hydrodynamic motor casing designed for maximum glide, efficiency and reduced drag
Alloy propeller blades with propeller guard for enhanced safety, stability and lowered vibration
Almost silent. Reduced moving parts means minimal noise
Low maintenance and built to last in tough conditions
Water cooled direct drive, built to run all day

Wifi Controller
Ergonomically designed controller can be handheld or fit inside the handlebars. With 5 different speed levels, and full LCD display, this is a controller you can count on to last. Featuring dual Wifi connectivity, signaling an advanced onboard computer system designed in Canada.
Dual wireless controls, mounted and handheld
HD screen displays battery life, ride time and more
100% waterproof
Ergonomically designed to reduce hand cramps
Floats on the surface and has wrist leash when in handheld mode
Powerful wireless bluetooth technology
Safety lock system automatically turns off motor when trigger is released or submerged
Connection
Control
Display Mode

Board Construction
The Hydroflyer™ board comes in 3 sizes, to suit your weight and skill level. Made from advanced lightweight waterproof EPS and carbon fibre composite. Strong and robust enough to handle long days at the beach, sand, and sun. Purpose-built to handle a beating, yet light enough to carry to and from the water.
Hydroflyer™ Cruiser is our standard recommended board, built for all shapes and sizes
Cloud is our inflatable model is lighter for easy travel and pack down, and Hydroflyer™
Sport is our lightweight model for the thrill-seeker who wants max speed and responsiveness.
Cruiser:
Cloud
Sport
Size: 7'5 x 34
Size: 6'0 x 30
Size: 5'0 x 25
Size: 226 x 63.5cm
Size: 183 x 63.5cm
Size: 152 x 63.5cm
Volume: 160 Litre
Volume: 150 Litres
Volume: 68 Litres
Lightweight hi-density materials to reduce weight but maintain strength
Modular interchangeable board and wing options for all skill levels
Waterproof, durable and robust waterproof EPS carbon fibre composite
Fully waterproof casing to house electronics
Unique V-shaped nose for easy touchdowns and reduced side-to-side wobble